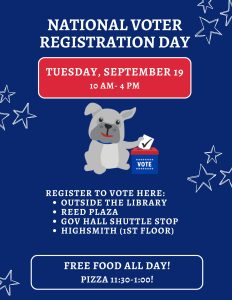 On Tuesday, September 19, 2023 from 10 a.m. – 4 p.m, our campus will be celebrating National Voter Registration Day! A host of volunteers will be tabling outside Ramsey library, on Reed Plaza, at the Governor's Hall shuttle stop, and inside Highsmith (first floor) to help you register to vote, update your voter registration, or answer any questions about voting in the upcoming elections. Thank you to the Political Science Department, the Political Science Club, and all our volunteers for making this event possible! We would also like to thank Campus Operations for their assistance.
All tabling locations will have snacks available throughout the day, including coffee! In addition, from 11:30 a.m. -1 p.m., free pizza will also be available. Be sure to stop by while it lasts! Major thanks to Chartwell's catering for their help on this front!
If you have any questions or are interested in helping out/volunteering with election-related events, please contact Dr. Ashley Moraguez (amorague@unca.edu).