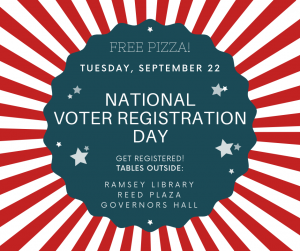 On Tuesday, Sept. 22 from 9 a.m. – 4 p.m, the Political Science Club will be tabling outside Governors Hall, Reed Plaza and Ramsey Library to help you register to vote, update your voter registration, or answer any questions about voting in the 2020 election.
All tabling locations will have snacks available throughout the day. From 11:30 a.m. -1 p.m., free pizza will also be available. Be sure to stop by while it lasts!
We will ask that everyone who stops by wear a mask and observe social distancing protocol.
If you have any questions or are interested in helping out/volunteering on Tuesday, please contact Ashley Moraguez (amorague@unca.edu), Robert Straub (rstraub@unca.edu), or the Key Center (keycenter@unca.edu).
Assistant Professor of Political Science Ashley Moraguez shares some helpful tips about voting this year, particularly for college students.