UNC Asheville participates in the National Study of Learning, Voting and Engagement. See below for our most recent reports:
2021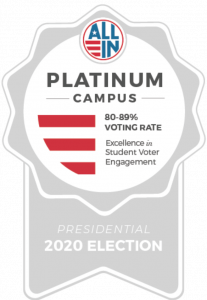 UNC Asheville received a Platinum Medal in the 2021 ALL IN Campus Democracy Challenge for voter turnout rates of 80-89 percent in the 2020 Presidential Election.
The 2020 presidential election engaged the largest and most diverse group of college students in U.S. history. UNC Asheville received the 2021 Platinum Seal – an accolade bestowed upon institutions that achieved a voting rate between 80-90% of eligible students who voted on Election Day. More than 840 institutions enrolling close to nine million students participate in the ALL IN Challenge. Read more >
2018
UNC Asheville received a Gold Medal for voter turnout rates in the 2018 Midterm Election.

Grants received for Voter Engagement Initiatives:
Campus Election Engagement Project 2018 Mini-Grant

Campus Vote Project Party at the Polls 2018 Grant

Campus Election Engagement Project 2019 Mini-Grant

Campus Takeover 2019 Mini-Grant

Democracy North Carolina Get Out the Vote Primaries 2020 Mini-Grant


Ask Every Student Commitment Campus Award 2020
Student Fellowships:
UNCA 2020 Voting Ambassadors:
Emma Appleby, Braden Ball, Camille Hanson, Emma Hubacher, Veronica Judson, Presley Wallace, Dee Dee Weiner, Quay Whitehurst, Kennedy Young, and Abby Zimmerman.