Voter Registration & Turnout Data
UNC Asheville participates in the National Study of Learning, Voting and Engagement. See below for our most recent reports:
All-In Challenge Participation
Every election cycle, UNC Asheville participates in the All-In Campus Democracy Challenge, which has recognized our achievements on campus, as follows: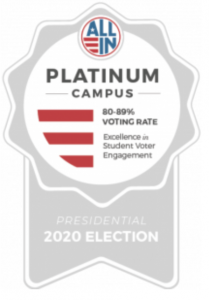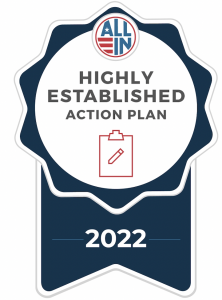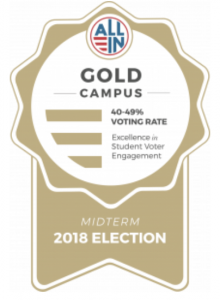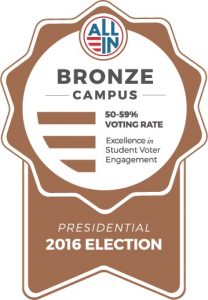 2022
For 2022, UNC Asheville received the distinction of having a Highly Established Action Plan for the report we submitted describing the civic engagement landscape on our campus, identifying short term- and long term goals for our efforts, and articulating strategies to keep improving election engagement on campus. You can access our Action Plan for the 2022 election cycle here.
2020
UNC Asheville received a Platinum Medal in the 2021 ALL IN Campus Democracy Challenge for voter turnout rates of 80-89 percent in the 2020 Presidential Election.
The 2020 presidential election engaged the largest and most diverse group of college students in U.S. history. UNC Asheville received the 2021 Platinum Seal – an accolade bestowed upon institutions that achieved a voting rate between 80-90% of eligible students who voted on Election Day. More than 840 institutions enrolling close to nine million students participate in the ALL IN Challenge. Read more >
2018
UNC Asheville received a Gold Medal for voter turnout rates in the 2018 Midterm Election for turnout rates of 40-49 percent. Our campus voting rate was 43.2 percent, though it was 57 percent for students who were registered to vote.
2016
In 2016, UNC Asheville qualified for the Bronze Medal for voter turnout, which was awarded to campuses with voting rates between 50 and 59 percent. 
Grants received for Voter Engagement Initiatives:
Campus Election Engagement Project 2018 Mini-Grant
Campus Vote Project Party at the Polls 2018 Grant
Campus Election Engagement Project 2019 Mini-Grant
Campus Takeover 2019 Mini-Grant
Democracy North Carolina Get Out the Vote Primaries 2020 Mini-Grant
Ask Every Student Commitment Campus Award 2020
University Service Council 2022 Midterms Matter Grant